Visit of the Moderator of the 144th General Assembly
When:
October 14, 2018 @ 10:30 am
2018-10-14T10:30:00-03:00
2018-10-14T10:45:00-03:00
The Rev. Daniel Cho
Moderator of the 144th General Assembly of the Presbyterian Church in Canada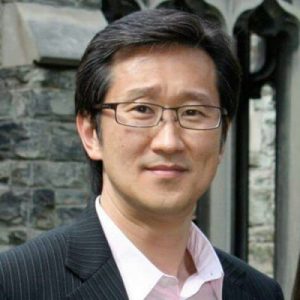 Daniel Cho grew up in Toronto after his family emigrated from South Korea in 1968. They attended the first Korean Presbyterian congregation in Canada that gathered at Knox Church, Spadina. Being a second-generation Korean-Canadian provided him a unique lens through which to experience the faith-culture-generation connection. Having grown up in the church he was nonetheless dumbfounded when he sensed a call to the ministry.
After his undergraduate and theological studies in the United States (Tulsa, Oklahoma and Chicago, Illinois) Daniel returned to complete seminary at Knox College and continued pastoring among the youth. For the next ten years he worked with teens and young adults in congregations, retreats and conferences. He returned to these roots as a main preacher at Canada Youth 2018 at Brock University. For thirty years now he has advocated for the rich ethnic diversity of the church and the fostering of closer connections among us. Currently Daniel is Senior Minister of St. Mark's Presbyterian Church, a  diverse congregation, and past moderator of the Presbytery of West Toronto. He is also a certified pastoral counsellor and certified mediator.
Daniel has served at all levels of the church most notably as convener of the Life and Mission Agency Committee, moderator of presbytery, committee chair, and convener of a synod special commission adjudicating the first case of alleged racial discrimination. He has represented the church on trips to Japan and China. Currently he is on the Board of Governors of Knox College, Justice Ministries Advisory Committee and Continuing Education Fund Committee. He appears in the DVD church resource, Gifts of God: The Sacraments, jointly developed by The Presbyterian Church in Canada and the Presbyterian Church (USA).
Daniel is blessed to have known the spiritual writer, Henri Nouwen, as a personal mentor. He has been profoundly shaped and impacted by Henri's teachings which he is always eager to share with others. He has written for the Henri Nouwen Society as well as a book chapter on the theme of spirituality and social constructionist thought. He has also written a two-part series for the Presbyterian Record on the multicultural character of the church and has led seminars on this subject.
Additional study includes psychology and family therapy at Wilfrid Laurier University and Princeton Theological Seminary, and postgraduate work at the intersection of constitutional law, religion and democracy at University of Toronto Faculty of Law, University of London and Harvard University. Daniel has served on a community safety panel with the Toronto Police Sex Crimes Unit, and since 2002 he has been an advisor with the Correctional Service of Canada working closely with senior government officials on national policy, service provision and programming.
Daniel enjoys music, running and martial arts training. His wife, Esther, works in healthcare as a services coordinator and they have three adult children—twin daughters and a son. Daniel is an unabashed Star Trek fan and a lover of sweets.